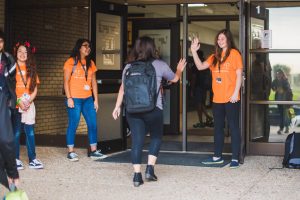 All five Lewisville ISD high schools — Hebron, Flower Mound, Lewisville, Marcus and The Colony — are leading the charge for Lewisville ISD's Kindness Week across the entire district.
LISD high schoolers began working on the #LISDBeKind campaign as they sought to make their schools and social media a kinder place for students to spend time together.
The Be Kind effort launched Aug. 7 when nearly 900 students from all the LISD high schools got together for the inaugural LISD Kindness Convocation, according to the school district. The student-driven event featured numerous guests, highlighted by keynote speaker Houston Kraft, whose CharacterStrong curriculum helps create more compassionate cultures in schools and communities. The students also enjoyed a barbecue dinner, attended a district volleyball match together and all wore the color orange as they were dubbed "Kindness Ambassadors" for the 2018-2019 school year.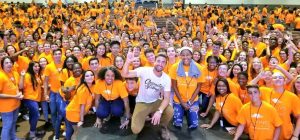 The Kindness Convocation served as a warmup for Kindness Week, which began Monday for the first full week of school. The theme for Monday was Kindness Kickoff, and will be followed by Brighten Someone's Day on Tuesday, Buddy Day on Wednesday, Hide the Negativity on Thursday and Join Team Kindness on Friday.
For photos, videos, daily kindness challenges and more information, click here.