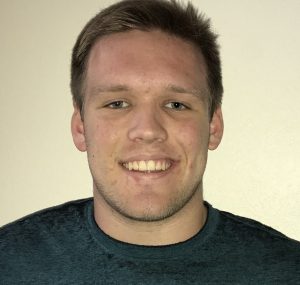 By John English
One of the best athletes at Marcus High School is also one of the best students.
John Brand, 17, was an all-district selection at defensive end last year for the Marauders football team, but more impressive than that is that he was selected as a National Merit Scholar Semifinalist.
The Marcus High School senior scored a 1550 on his SAT and carries a 5.1333 weighted grade point average.
"It feels great to be selected as a semifinalist because it validates all of the work I have put in to get where I am at now," Brand said. "It means that the long nights studying or doing homework– even though I have practice early the next morning– was all worth it. It has always been my dream to be a great athlete as well as a great scholar and this has confirmed that."
The Flower Mound teen is also a member of the Math and Spanish National Honor Societies. He added that trying to balance all that he does academically with football at Marcus High School can be quite the challenge.
"Football is an all-year commitment between the season, the offseason, spring ball and summer workouts," Brand said. "Early mornings and late afternoons push schoolwork into a small amount of time. This is surely difficult for all of the athletes on the team, but on top of that, I have consistently taken the hardest classes offered to me at Marcus making it all the more difficult.
"I often find myself having to study far into the night, which in turn makes it more difficult to get up for the early mornings."
Brand is ranked 12th in his graduating class of 861 students and is planning to study Mechanical or Nuclear Engineering in college.
The Marcus senior has received scholarship offers for football at the Naval Academy, West Point and the Air Force Academy and will likely attend one of those military schools.
Brand's Favorites:
Favorite Athlete: Joey Bosa
Favorite Sports Team: LA Chargers
Person Who Most Inspires You: My dad
Favorite Subject: Calculus/Math
Favorite Food: Steak
Favorite Movie: Christmas Vacation
Favorite TV Show: How I Met Your Mother
Book Currently Reading: The Picture of Dorian Gray
Favorite Musical Group or performer: Red Hot Chili Peppers