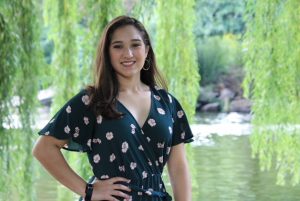 By John English
Isabella Van Trease, 17, wants to become a writer when she grows up.
"Whether it's journalism, script writing, or creating my own book, I yearn to express my passions and the passions of others through print," Van Trease said. "Communication and representation are both incredibly important to me.
The Liberty Christian senior is a member of the school's choir, as well as a captain on the varsity tennis team, however, she said that of all of her interests in life, writing is her greatest passion.
"I believe that if more ideologies and people groups are represented in [the] media, communication will become more fluid," said Van Trease. "I strive to create that environment."
The Bartonville teen is also President of the Interact Club, a new service club at Liberty affiliated with the Cross Timbers Rotary and is actively involved in Spanish and Art Clubs.
"I have a heart for community," Van Trease said. "I believe that there is power in unity. Thus, I strive to create a united community at Liberty, by engaging with as many people as I can on campus. I then hope that my reaching out to my peers prompts them to reach out to others outside of Liberty, creating a ripple effect that results in a more united global community."
She added that one of the things she has been able to accomplish during her time Liberty Christian School is to do some soul searching and figure out who she is as a person.
"The biggest challenge I've faced in life is the struggle to find my identity," Van Trease said. "For many years, I didn't know who I was and I looked to other people who told me who they thought I should be. This resulted in a lot of unnecessary heartbreak and confusion. Now that I am older, I know who I am and I have a profound appreciation of self. I now strive to express my passions and make a difference with them."
Van Trease carries a 4.26 grade point average at Liberty Christian School and plans to attend the University of Texas at Austin or New York University and major in Journalism.
Van Trease's Favorites:
Favorite Subject: English
Person who most inspires me: My parents
Favorite food: Calamari
Favorite movie: Mulan
Favorite TV show: Seinfeld
Book you are currently reading or the last book you read: Paradise Lost
Favorite musical group or performer: Classic rock, including Fleetwood Mac and Stevie Nicks, Pearl Jam, The Eagles and U2.