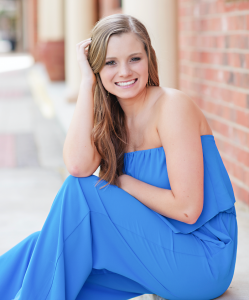 By John English
Flower Mound High School senior Brooklyn Ternes likes to help other people. She is Vice President of Circle of Friends– a club in which students interact and form relationships with special needs students– and said she ultimately hopes to make a career out of helping others.
"One day, I would love to be a Neonatal Nurse," Ternes said. "I love making a difference and I believe there's no better way than helping care for the sick little ones who still have a whole lot of life ahead of them. Aside from caring for the babies, I would love to have the opportunity to pour love and hope into the families of the sick babies; allowing them to see the good in a bad situation."
Ternes, 17, is headed to the University of Arkansas to study nursing and said she is grateful for her time at Flower Mound High School for a couple of reasons.
"I love all of the opportunities available at FMHS," Ternes said. "Flower Mound has a club for every personality. It makes me so happy seeing people find a place where they feel comfortable and people they can relate to. Our administrators are so good about making sure all of our students get plugged in and have a solid support group."
Ternes is also the Secretary of the FMHS Student Council, a member of the National Honor Society, a student ambassador and a bible study group called "I Am Second."
"I love being productive and an active contributor to my school and community," Ternes said. "Being involved in a variety of things has also brought me friendships that I wouldn't have discovered otherwise."
The Flower Mound teen is also a member of the English Honor Society, Science National Honor Society, and Mu Alpha Theta and said she believes the biggest issue affecting young people today is "limited face-to-face interaction."
"Today, the majority of our socialization occurs through technology," Ternes said. "When faced with conflict, we often hide behind our phones because we fear confrontation. As a result, our social skills lack and we may not know how to respond when adversity comes our way in the future."
Ternes carries a 3.95 grade point average and is ranked 121 in her graduating class of 891 students.
Ternes' Favorites
Favorite Subject: Science
Person who most inspires me: My mom
Favorite Food: Açaí bowls
Favorite Movie: Safe Haven
Favorite TV Show: Big Brother
Book Currently Reading: The Orphan Train
Favorite Musical Group/ Performer: Jason Aldean