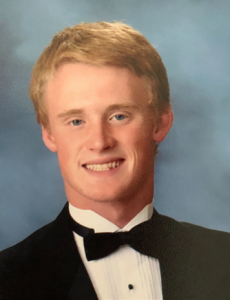 By John English
Sean Watson recently received some news that served as the crowning jewel of an impressive academic career.
The Marcus High School senior was selected as a National Merit Scholar semifinalist and said the nomination for him has been humbling.
"It is really an incredible experience," Watson said. "Truly it feels like a blessing. I have four siblings who all aspire to attend college and graduate school, and I would love being able to take some of the burden of paying for college off of my parents."
Watson, 18, scored a 1510 on his SAT and is ranked 41st in his graduating class of 861 students.
The Flower Mound teen, who is a defensive lineman on the Marcus football team, and has also played basketball and run track at Marcus, said that he attributes his academic and athletic successes to values instilled in him by a number of people.
"I have had innumerable daily challenges for which I am enormously thankful," Watson said. "I am a firm believer that learning and growth come as the result of overcoming adversity and viewing failure as opportunity. I have learned from my parents, coaches and teachers to never quit, but to come back stronger after each failure or loss I have faced. In retrospect it is through failures that I have received my motivation to succeed."
Watson, who is also a member of the National Honor Society, will attend Texas A&M University and plans to study Biomedical Engineering.
"I would like to pursue a career developing prosthesis for those with physical disabilities," Watson said. "In particular, I would like to serve war veterans. I have always wanted to serve others because I think that is what life is all about, and it would be a joy and an honor to serve the people who bravely and unselfishly serve us."
Watson's Favorites
Favorite Athlete: JJ Watt
Favorite Sports Team: Texas A&M Aggies
Person Who Most Inspires You: My brother Blake
Favorite Subject: Math
Favorite Food: Steak
Favorite Movie: Miracle
Favorite TV Show: How I Met Your Mother
Book Currently Reading or last book read: The Bible
Favorite Musical Group or performer: The Eagles