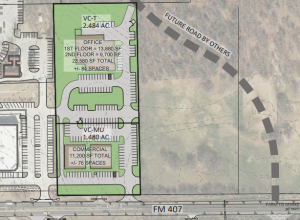 The Argyle Town Council approved a small proposed development on FM 407, going against the Planning & Zoning Commission's previous recommendation.
The nearly 4-acre tract of land is located east of Hwy 377, just east of CVS and Kimzey's Coffee, and is part of the Waterbrook mixed-use development across FM 407. The developer, Terra Manna, was seeking approval of a zoning change from Manufactured Home to Village Center Mixed Use and Village Center Transition districts.
The development's concept plan shows two multi-tenant small commercial buildings, a total of 11,200 square feet, along FM 407. Terra Manna Founder Bret Pedigo said during the meeting that he does not have specific tenants or uses in line for those buildings. Behind those buildings is a proposed two-story office building with more than 23,500 square feet. Pedigo said the office building would be occupied by an oil industry business relocating its headquarters from Southlake, and construction on it would begin immediately.
The property used to be the Evans Trailer Park, with multiple mobile homes and one single family home. They have been recently removed.
Two weeks ago, the Argyle Planning & Zoning Commission nearly unanimously voted to recommend denial of the zoning change request, which would require a super majority of Town Council members to approve the request on Tuesday night.
The concept plan presented to Council was a bit different than the one P&Z considered, most notably that the new one preserves 80 protected trees, while the previous one preserved only five. After council spoke to the applicant for about half an hour, a handful of residents spoke, some in favor and some against. Then, council went to executive session for legal advice.
Council then asked Pedigo if he would be willing to move the parking lot in the middle of the concept plan to the rear of the property to save a few more majestic trees, and Pedigo agreed. Council also asked for 8,000 square feet of the front retail space be dedicated to family-friendly restaurant space, and Pedigo agreed to that as well.
Council then voted 4-1 to approve the request. Terra Manna will have to bring back a site plan for council approval when it gets a tenant(s) for the commercial/retail space.