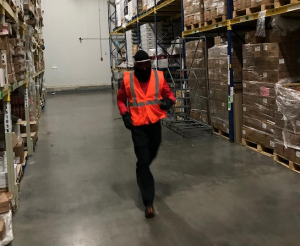 Robert Browning, the great English poet and playwright wrote, "A man's reach should exceed his grasp, or what's a heaven for?" I take that to mean, if we are to be truly happy we must not limit our challenges, we must challenge our limits. Throughout our lives we face challenges in many forms; from simply getting through those awkward teenage years, to dealing with the responsibilities of adulthood, career choices, parenthood and, ultimately, transitioning to our senior years. Most of those challenges can be viewed as the natural progression of life. However, there are self-imposed challenges that come from the desire to stand out from the crowd; to do things that put you in a league of your own.
My nephew, Christopher Weir, is an avid marathon runner, among many other athletic pursuits. Chris, a longtime Flower Mound resident and successful businessman, has run the 26.2 mile Dallas marathon 4 times and the New Orleans marathon once during the last few years. Being able to jog, lope and sprint for 4 or 5 hours (or more) at a time, as you traverse along city roads and highways, puts one in very rare company indeed. But, after you've done it again and again, with thousands of others at each event; what do you do for an encore? Well, leave it to Chris to transcend from the mundane to the extraordinary. On December 13, the fourteenth Antarctic Ice Marathon will take place just a few hundred miles from the South Pole at the foot of the Ellsworth Mountains, the highest mountain ranges in Antarctica.
For Chris, the journey begins by flying to Punta Arenas, Chile on December 10. During the next 24 hours he, and the 54 other competitors from 14 countries around the world, will undergo a briefing about the marathon and the conditions under which it will be run. On December 12, the entire group will be transported by private jet for the 4 ¼ hour flight to Union Glacier, Antarctica, the icy location of the marathon. Union Glacier Camp is only accessible by air and the wheeled IL-76 aircraft lands on a naturally-occurring ice runway on the Union Glacier, where competitors will take their first steps in Antarctica. Then, they will climb aboard a specially adapted van for a 5 mile ride to camp, where final preparations will be made for the epic event the following day.
A marked course of 26.2 miles will have been prepared in advance and snowmobile support, aid stations and medical personnel will be at hand for the duration of the race. The challenges of this marathon are formidable, not merely because of the length of the race, but because of the underfoot conditions, comprising snow and ice throughout the trek and an average wind-chill temperature of -20 Celsius (-4 degrees Fahrenheit) and strong winds cascading down from the frigid mountains. In addition, the event takes place at an altitude of 700 meters. There will be 15 competitors from China, 9 from the United States, 7 from Australia, 4 from Belgium and Poland, 3 from India and Indonesia, 2 from Russia, Lithuania and Austria and one from Denmark, Italy, Ireland and Mexico.
The following facts have been taken from the website: www.icemarathon.com. "Antarctica is the coldest, windiest, highest and driest continent on the planet. The lowest temperature ever recorded on earth was -94.7°C (-135.8°F) in eastern Antarctica in 2010. At this temperature steel will shatter and water will explode into ice crystals. The continent also experiences regular Katabatic winds, reaching 300 km per hour (185 miles/hour), that blow out of the continental interior and make the Antarctic coastal regions breezy. Antarctica has an average altitude of about 7,000 ft, with the South Pole situated at almost 10,000 ft."
In the accompanying short video, Chris is training inside the icy surroundings of a large produce warehouse in Dallas. When he returns in mid-December, I'll be doing a video interview so he can tell us more about this amazing adventure.