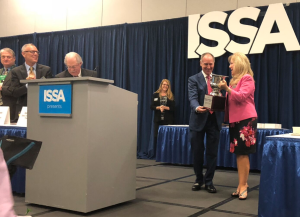 Flower Mound resident Debbie Sardone, nonprofit founder of Cleaning For A Reason and owner and president of Buckets & Bows Maid Service, was recently given the Jack D. Ramaley Industry Distinguished Service Award at ISSA's annual convention in Dallas.
Sardone was recognized for having demonstrated outstanding service to the cleaning and maintenance industry through innovation, professionalism, leadership, elevation of industry standards, promotion of the Association's growth and development, unselfish dedication without personal gain and emulation of the ISSA Code of Ethics, according to a Buckets & Bows news release. The Jack D. Ramaley Distinguished Service Award is considered the cleaning industry association's highest honor.
"I am so honored to receive this award," Sardone said. "It's proof that doing what you can to help others can start small and grow big beyond your wildest dreams. And it's a reminder that using your business to do good rewards you over and over again."
Sardone received the award in a private breakfast meeting of the ISSA board of directors during the 15,000-person convention and talked about lifting others while you climb and dreaming beyond money and profits, according to the news release.
During a separate event during the convention, ISSA Charities executive director Mike Gies pointed to Sardone while talking about the power of the intersection of profits and purpose.
"There's no better example than Debbie Sardone," Gies said before Sardone's award was made public and she received a standing ovation from the large crowd in the packed convention hall. After Gies' speech was the highlight of the week-long convention, a fireside chat with President George W. Bush. Sardone met the former president backstage after his interview.