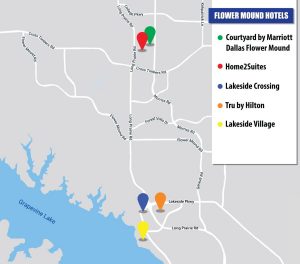 Prior to November 2017, Flower Mound residents who had visiting family and friends in town for special events had only hotels in other communities– like Lewisville, Denton, Grapevine or Southlake, for instance– to accommodate their guests.
History was made last November when Flower Mound opened its first hotel, the Courtyard by Marriott Hotel at The River Walk.
On Oct. 8, 2018, the town's Planning and Zoning Commission approved the future Hilton Home2Suites River Walk-Extended Stay Hotel; bringing the number of approved hotels in Flower Mound to five– two at The River Walk and three on the south end of town in the Lakeside Business District.
Here's a look at the five approved hotels.
Courtyard by Marriott: The five-story, 145-room upscale Courtyard by Marriott is approximately 100,000-square-feet. It's located at 4330 Courtyard Way in The River Walk.
It features an indoor pool, fitness center, outdoor patio area complete with two fire pits, in addition to more than 9,000-square-feet of meeting space to accommodate functions of up to 400 people, as well as on-site catering. The Trinity Ballroom, featuring views of The River Walk, hosts wedding receptions and corporate events.
Home2Suites: The four-story, 67,868-square-foot Hilton's Home2Suites River Walk-Extended Stay Hotel will contain 100 lodging rooms, a dining area, an indoor pool, exercise room, a small gathering area, plus approximately 1,200-square-feet of retail space and an outdoor patio area.
It will be located south of The Courtyard by Marriott at the southwest corner of Central Park Avenue and River Walk Drive across from the River Walk Amphitheater and Farmer's Market.
Tru by Hilton: The Point development is planned for 35-acres in southern Flower Mound along FM 2499 south of Home Depot.
Anchoring the northwest corner of the development will be a 57,500-square-foot, four- or five-story Tru by Hilton hotel, with 100-guest rooms.
Tru, a new affordable hotel brand, was launched in 2016 and is widely recognized as being the most successful launch in hotel industry history. Currently there are over 425 Tru hotels in Hilton's development pipeline. Hilton has worked to enhance the standard Tru architecture to conform with Flower Mound's Urban Design Standards.
Lakeside Crossing: The 12-acre Lakeside Crossing mixed-use project– located just south of Lakeside DFW, between FM 2499 and Northwood Drive– will be anchored by a yet-to-be-named hotel.
The five-story, 134-room hotel will feature a full-service restaurant plus 24-hour room service, conference centers, a rooftop lounge and terrace bar, a pool with surrounding patio area, plus nearly 4,000-square-feet of meeting space.
The hotel, positioned at the north side of the development, is part of a natural-setting plaza central to the surrounding 100,000-square-feet of retail, office and restaurant space. The environmentally-protected north-south central area features an intermittent stream surrounded by natural green-space.
The hotel will be local developer Scott Tarwater's 80th hotel built from the ground up– including the town's Courtyard by Marriott– but it's the one he's most proud of; because it's on his family's homestead.
Lakeside Village: Construction is moving forward with the infrastructure in Lakeside Village, including a hotel to be located at the Community Green near the restaurants at the point of the peninsula, according to developer Richard Myers, managing director of Realty Capital.
"We're moving ahead faster than we'd expected and are currently in discussion with three different hotel brands," he said. "They're all luxury-level [hotels], like the Marriott Ambassador line just announced in Grapevine [Hotel Vin].
Full-service hotels are the only permitted hotel use approved in the mixed-use Lakeside Village. These types of hotels charge a higher room rate which ensures the quality of the hotel on both the outside and inside.
"We anticipate there will be approximately 125- to 150-rooms and the amenities associated with the brand we select will be one of the determiners," said Myers.