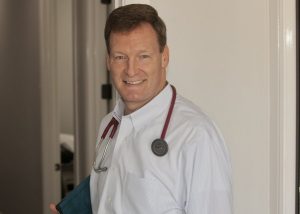 Dr. Doug Cluff always knew he'd one day start his own practice, he just didn't know where or how until learning about a different way to provide care.
After more than five years of research, he opened TLC Family Health off Churchill Drive in Flower Mound last October to address the challenges he saw in traditional medicine.
TLC employs a direct primary care (DPC) model that operates outside the world of insurance, and offers patients three monthly membership options. Sometimes confused with concierge medicine, Cluff's modified plan seeks to improve patient healthcare by eliminating waste and reducing costs driven up by accepting health insurance which he believes should be utilized only in emergencies, like auto insurance.
"We direct primary care doctors try to distance ourselves from concierge medicine for two main reasons. One, it's more expensive – usually over three to four times the cost of most DPC models. And they bill insurance in addition to their fees," said Cluff, whose TLC stands for therapeutic lifestyle changes.
The idea is to provide excellent health care, but without so many bells and whistles allowing Cluff to see more patients and thus lowering per-patient costs. TLC is one of only about 900 nationwide practices following the DPC model, which is ideal for self-insured and uninsured patients, and those whose insurance deductibles exceed his membership fees.
Because TLC Family Health is not influenced by insurance companies, Cluff is able to offer several perks that most practices don't – such as online scheduling, choice of visit length (up to an hour), video, telephone and e-mail visits, little to no wait times, in-office testing and treatments at cost, discounted counseling services, group medical visits, and 24/7 emergency cell phone access.
Cluff emphasizes nutrition and weight management, fitness, stress management and sleeping well to keep patients healthier. He tries to help patients stay or wean off medicines; however, he recommends them when he feels it's best.
Cluff says family physicians should be able to handle 85-90% of their patients' medical issues, referring patients to specialists when required.
Before starting his practice, Cluff worked for 16 years with Health Texas in Irving where he had about 2,200 patients. He now serves more than 400 with a goal to eventually reach 1,200-1,500.