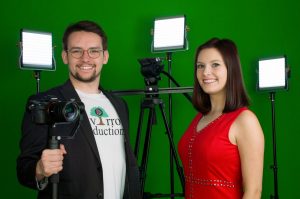 Growing up on three-acres in small-town Ohio, where the most exciting thing to do was raise chickens and milk the neighbor's cows– allowed Jordan and Abbey Killin to develop their creative sides.
After moving with their parents to Texas 10 years ago, the siblings continued on that path; he behind the camera and she in front of it. Now, they are combining their talents to make Envirron Productions a success.
Jordan produces high-quality 4K promotional, educational and safety videos and films aimed at business websites and social media, while Abbey uses her background in theatre and singing as a spokesperson and voice-over and jingle specialist. The goal is to create ways for companies to show people visually how to differentiate themselves from their competition.
"We try to make every video cinematic and as visually appealing as possible," said the 24-year-old Jordan, who started the company nearly two years ago.
Envirron Productions started by helping small businesses and has expanded into medium-sized entities. The longer-term goal is helping large companies focus more on transferring paper communications to video.
"It's always better to watch a video than read a lot of words on a website, because people's attention spans are about seven-seconds," added Abbey, 23, who recently joined Jordan. "After viewing a video, studies show people are 89-percent more likely to buy a product or service, so it is a great way to promote your business."
Both honed their skills at Collin College after Abbey graduated from Marcus High School and Jordan finished his home schooling. He took several film courses, receiving a Certificate in Digital Video. He has successfully produced high-quality videos for companies all over the DFW area.
Abbey joined Studio B in Highland Village at age 13, appearing in several musical theatre productions, which helped her earn a scholarship for Most Promising Incoming Theatre Student. After graduating from Collin, she formed a band called Abbey and The Afternoon that plays around the Metroplex and on Spotify and iTunes.
The brother and sister duo channel that creativity into their clients' projects filmed on location.
They also can add subtitles and/or animation to grab attention, plus conduct interviews, write scripts, and include background music, as well as utilize drone footage to enhance the final products.
To find out more about Envirron Productions and see samples of their work, visit: envirronproductions.com.