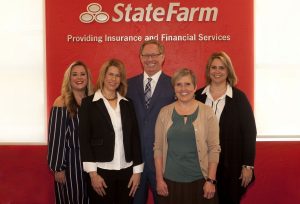 On the walls of his new office near Flower Mound High School are multiple trophies and plaques displaying Matt Tobben's success as a State Farm agent in Washington, Missouri just outside of St. Louis.
Those trophies remind him of the connection he enjoyed with his clients and his community before becoming an Agency Field Executive in Northern California.
In 2016, Matt and his family relocated to Lantana to be closer to the central part of the country near extended family. The timing of the move was important because they wanted their son to be able to attend his last two years of high school at Liberty Christian School. Originally, they hoped a corporate position would open up in the DFW area allowing Matt to make a lateral transfer.
"One night Lisa asked me what I liked most about my job," Tobben recalled. "I said I enjoyed meeting with my agents and their clients and I realized I missed meeting with my own clients. This conversation led to the decision to return to agency."
Matt happily accepted an agency opportunity in Flower Mound and opened for business on May 1, 2018.
"We're a little different from other agencies. We help people manage their everyday risks", said Lisa Tobben, a licensed team member. "We do that by meeting with our clients to gain an understanding of their complete situation."
Matt's goal is "If a client walks through the door with a long face or a tear in their eye, I want to be able to say 'financially speaking everything will be okay.'"
Matt draws upon almost 30 years of experience when he meets with clients. He has earned the designation of Retirement Income Certified Professional through American College of Financial Services. He is also a Lifetime Member of State Farm's President's Club as one of the top 50 agents in the country.
In 2003, Matt earned a Trophy as the No. 2 multi-line agency in the entire company. He is also one of about a dozen agents nationwide to qualify for Chairman's Circle every year he was eligible as a Missouri agent. When he left his original agency in 2012, he was the No. 4 agent in the company with assets under management.
"Experience matters, and Matt has a wealth of experience," Lisa said.