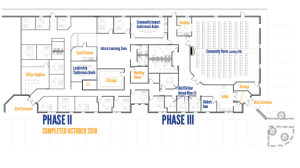 The United Way of Denton County announced Thursday its renovation plans to create a community complex.
This summer, the nonprofit acquired a 24,000-square-foot building in the Shady Oaks complex on Teasley Lane because its 4,870-square-foot office suite, which it shared with partner agencies, did not have enough room, according to a UWDC news release.
Last month, the organization completed renovations of 3,500 square feet of its new building, and it is now turning to the final renovations. UWDC is seeking donors for the 8,500-square-foot renovation and parking lot expansion project, with an estimated need of $1.5 million.

"Phases I and II are complete thanks to the Improving Lives donations from 2017-2018 and Mr. Brown's generosity," said United Way of Denton County President and CEO Gary Henderson. "The Improving Lives Capital Campaign moves into Phase III with a need of $1.5 million to realize the United Way of Denton County Community Complex to better serve our neighbors and expand our mission to repair and restore lives as we eliminate redundancies and increase efficiencies across Denton County."
Phase III includes an expanded multi-purpose auditorium, rooms to meet confidentially with clients such as Denton Housing Authority and Volunteer Income Tax Assistance, a safe and secure children's room for families seeking assistance, additional work spaces for volunteers, interns, and staff, and additional collaborative work and training space, according to the news release. Phase III also includes a much-needed parking lot expansion and elevation improvements. Once complete, the United Way Community Complex will support county-wide collaborations across various public and private sectors to solve complex socioeconomic problems like poverty, homelessness, and mental illness.
The new building is part of the Improving Lives Capital Campaign to for UWDC's expanding initiatives to serve a growing Denton County. Charles Brown, a long-time United Way supporter and owner of the Shady Oaks complex, saw that story and reached out with a generous, owner-financed offer for UWDC to purchase the Teasley Lane building, according to the news release.
"Mr. Brown's proposal included long-term commercial tenants in half of the building which reduced our monthly expenses by nearly 1/3 while immediately doubling functional space needed to efficiently serve the Denton County community," said Mark Merki, United Way of Denton County Board Treasurer. "Our board is committed to the lowest possible infrastructure overhead enabling us to invest the greatest percentage of donor dollars into programs and initiatives to meet the growing complexity of our community's needs."