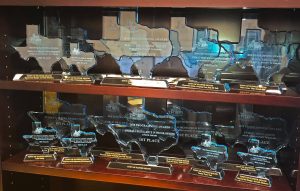 The town of Flower Mound Communications Department recently received 18 awards, including 10 first-place awards, at the Texas Association of Telecommunications Officers and Advisors (TATOA) annual conference.
Flower Mound was the most-awarded municipality of the state conference for the third straight year and set a new record for the most TATOA awards staff has received in a single year, according to a town news release. Staff took home first and second in three categories and first and third in two other categories. For the second time, Flower Mound Communications took home the most prestigious first place trophy of the night, the Overall Excellence in Programming award, which judges a municipality's video programming as a whole. Other first place video project awards include:
• Public Health/Public Safety – Fireworks Safety
• Public Education – Turkey Fryer Fail
• Profile of an Organization/Department – Meet the Team
• Special Audience – Level Up: Library Program
• Magazine Format Series – Town Matters
• Student/Intern Production – Around Town: Post Oak Park
• Public Service Announcement – Twin Coves: Time Stands Still
• Documentary – Meet the Team
• Event Program Promotion: Level Up – Library Program
The town also received three second place awards and five third place awards for additional video projects. Watch all the award-winning videos and more at the town of Flower Mound YouTube channel.