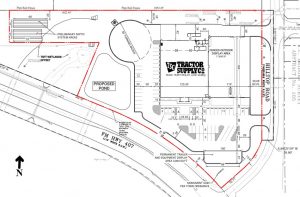 Tractor Supply Company is one Conditional Use Permit away from full approval to build a new store in Bartonville.
On Wednesday night, the Bartonville Town Council took the Planning & Zoning Commission's recommendations and approved three requests, tabling one until next month.
Tractor Supply, a nationwide retailer, is proposing a 19,000-square-foot enclosed building with a 17,500-square-foot outdoor display on the northwest corner of Hilltop and FM 407. At the Wednesday Town Council meeting, the commission approved the requests for the proposed plat, changing the land use designation from Rural Business District to Rural Services District and changing the zoning designation from Agriculture District to Rural Services District.
The week before, P&Z recommended approval of those items, but it chose to postpone the fourth request, the Conditional Use Permit for Agricultural Store, until its Dec. 5 meeting. Council followed suit, postponing the CUP decision until its Dec. 18 meeting.