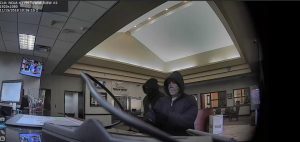 Police are seeking any information the public may have about three suspects who robbed a bank in Flower Mound on Thursday morning.
The Flower Mound Police Department responded to a bank robbery at 10:30 a.m. Thursday at Texas Trust Credit Union, 2501 Flower Mound Road.
Two suspects went inside, displayed handguns and ordered employees to open the vault, according to a FMPD news release. A third suspect was waiting in a beige Tahoe in the parking lot.
After getting an undetermined amount of money, the two suspects fled to the Tahoe, which drove into the residential neighborhood behind the business. The Tahoe was located unoccupied in the same neighborhood, where it is believed the suspects then fled in a second unknown vehicle prior to officers' arrival, according to police.

The suspects are described as three black males, unknown ages. The two suspects who entered the business were wearing black hoodies, one with gray sweat pants, the other with black sweat pants and white shoes, according to police. All of them were wearing bandannas.
The FBI was notified and arrived at the scene. The case is still under investigation, but anyone with any information is encouraged to notify the Flower Mound Police Department by either calling 972-539-0525 or the Anonymous Crime Tip Line at 972-874-3307.