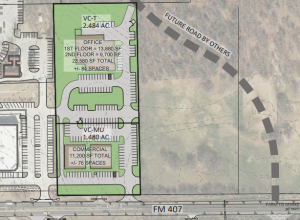 Argyle Planning & Zoning Commissioners this week recommended denial of a small proposed commercial and office development on FM 407, just east of Hwy 377.
The nearly 4-acre tract of land is located just east of CVS and Kimzey's Coffee and is part of the Waterbrook mixed-use development across FM 407. The developer, Terra Manna, is seeking approval of a zoning change from Manufactured Home to Village Center Mixed Use and Village Center Transition districts.
The development's concept plan shows two multi-tenant small commercial buildings, a total of 11,200 square feet, along FM 407, according to the meeting agenda. Terra Manna Founder Bret Pedigo said during the meeting that he does not have specific tenants or uses in line for those buildings, and Terra Manna may prefer to just build one larger building, depending on what a future tenant would want. Behind those buildings is a proposed two-story office building with more than 23,500 square feet. Pedigo said the office building would be occupied by an oil industry business relocating its headquarters from Southlake, and construction on it would begin immediately.
The property used to be the Evans Trailer Park, with multiple mobile homes and one single family home. They have been recently removed.
At the P&Z meeting on Tuesday night, two residents spoke against the proposal, saying they would want the zoning to be more specific and they're concerned about traffic in the already busy area. The clearing of trees was also a topic of note in the residents' comments and commissioners' questions.
Commissioners voted 4-1 to recommend denial of the zoning change — two commissioners had recused themselves from the agenda item.