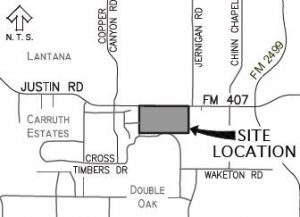 Despite approval to build 198 homes along FM 407 in Copper Canyon, Toll Brothers is coming back to town officials tonight to ask for an increase in density.
The upscale homebuilder wants the town to amend the Master Plan to allow 225 homes at a density of 2.56 homes per acre.
The proposed Vickery Park subdivision on the south side of FM 407 will consist of only single-family homes and will be gated for security.
The joint Planning and Zoning Commission and Town Council meeting starts at 7 p.m. tonight at Copper Canyon Town Hall, 400 Woodland Drive.