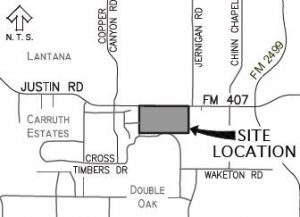 Copper Canyon officials stuck to their guns regarding the town's Master Plan on Monday night.
At a joint Planning and Zoning Commission and Town Council meeting, Toll Brothers' request for more density for its proposed Vickery Park residential subdivision was denied.
The Master Plan for the 88 acres on the south side of FM 407 requires a minimum residential lot size of one-third acre or 14,500 square feet.
Toll Brothers in June asked the town for an amendment that would allow them to build 291 homes with a density of five homes per acre. After that was rejected, the homebuilder lowered the density to 240 homes and went back before the town on Monday night.
That number will now be 198 homes on one-third acre lots, measuring approximately 100-feet wide by 145-feet deep.
At the meeting, 31 citizens addressed the town council and just three spoke in favor of the development. All five P & Z commissioners voted against the Master Plan amendment and Town Council voted 4 to 1 to deny.
The subdivision will consist of only single-family homes and will be gated for security. The private concrete streets would be maintained by a homeowners association. An estimated 18 acres will be set aside for green space.
Toll Brothers will come back before the town in the coming months to present a revised layout to accommodate the larger lots.