The Copper Canyon Town Council members unanimously denied a proposed 291-home development, but they did give the developer a green light to bring back a lower-density plan.
Toll Brothers had filed an application with the town to develop a gated community called Vickery Park south of FM 407 in the designated Town Center zone, according to Mayor Sue Tejml. The developer and homebuilder requested the town remove the retail/commercial requirement from the 88-acre portion of Town Center and have it consist only of single-family residential use, as well as density be increased to 3.5 units per gross acre.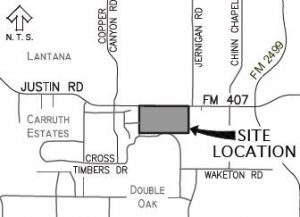 Toll Brothers' plan would have been a density of five homes per net acre and 3.3 homes per gross acre.
Copper Canyon's Planning & Zoning Commission unanimously recommended denial of the request last week. Twenty-five residents spoke at the Town Council public hearing Monday night, and only one suggested even considering the higher-density proposal, Tejml said.
The town council voted unanimously to deny the development proposal, Tejml said. However, the council did approve the request to remove the retail/commercial requirement for the property, so the land can be developed for residential use, but it has a minimum requirement of three homes per net acre.
"We all think Toll Brothers is a first-rate developer, and we'd love to have them in town, but not at the density they proposed," Tejml said. "It would be out of character for our town."