The Painted Tree Marketplace will open this weekend in Highland Village.
The vintage market will be a community of home decor and fashion shops in the Highland Village Town Center.
The Painted Tree will take up 38,230 square feet of the space vacated in November 2016 by Kroger in the shopping center on FM 407.  Kroger occupied a total of 61,374 square feet.
The Marketplace provides the space for local shop owners, boutiques, artisans, decorators and craftsmen to sell their products, and it also offers workshops and classes for the aspiring artist.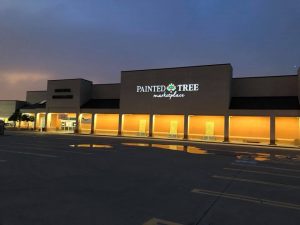 Vendors began moving in to the space on Tuesday. The Painted Tree — Highland Village will open to the public beginning at 10 a.m. Saturday, and a grand opening date has been set for June 30.
Extravaganza gift store, 6100 Long Prairie Road, announced on social media that it is closing its store at the end of June after 15 years in Flower Mound. However, the owner, Dana Bondar, will continue selling Tyler candles at the Painted Tree.