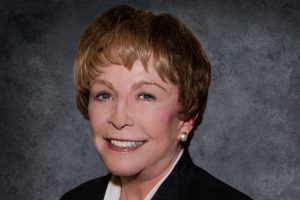 Toll Brothers has filed an application with the Town to develop the Vickery Park residential subdivision consisting of 291 homes south of FM 407 in our designated Town Center. (For reference, Copper Canyon currently has just over 500 homes, but there are several large tracts of open acreage that could be developed in the future.) Toll Brothers has a long-time reputation as a quality residential developer and homebuilder.
Toll Brothers is requesting that the entire portion of the Town Center south of FM 407 (approximately 88 acres) consist only of single-family residential uses (no commercial uses) and that the residential density be increased to 3.5 units per gross acre. The proposed subdivision would be gated for security, and the private concrete streets would be maintained by a Homeowners Association (HOA).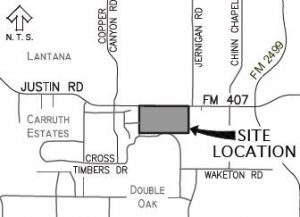 Of the 88 gross acres, Toll Brothers anticipates 20 percent, or an estimated almost 18 acres, be reserved for green space. The remaining 70 acres would be reduced by approximately 20% for streets. This leaves a net buildable acreage for homes of approximately 56 acres. With 291 homes this would be approximately a proposed density of five homes per net acre. (As a reference for comparison, the Woodlands Subdivision in Copper Canyon and the Chinn Chapel North Subdivision along Rolling Acres Drive, have a density of one home per net acre.)
Toll Brothers proposes that the majority of the homes be on lots 50-feet-wide with a buildable frontage of 40 feet and five-foot easements on either side. (Five-foot easements equate to 10 feet between homes.) An estimated 100 lots would be 72 feet wide with a buildable frontage of 60 feet and six-foot side easements (or 12 feet between homes.)
On Monday June 4th at 7 p.m. at Town Hall, the Planning and Zoning Commission will hear Toll Brothers application to amend the Town's Master Plan for the 88 acres of Town Center south of FM 407. The P&Z Agenda packet will be posted on the Town's website on Friday June 1st. After P&Z's action on June 4th, the Toll Brothers application will be forwarded to the Town Council for action on Monday June 11th at 7 p.m. State law requires a three-member majority of Town Council to accept P&Z's recommendation or a four-member supermajority of Town Council to reject P&Z's recommendation.
Current members of our Planning and Zoning Commission are: Andre Nicholas, Chairman; Mark Pape, Tom Reed, and Paul Bosco. (Council will appoint a fifth P&Z member to replace Cindy Skidmore, who resigned as she is moving from Copper Canyon.) Alternate P&Z members in order of appointment are Karla Hohenberger, Deb Valencia, and Mitch Dornich.
Current Council Members are: Jeff Mangum, Mayor Pro Tem; Valerie Pearson Cannaday, Deputy Mayor Pro Tem; and Council Members Bill Castleman, Steve Hill, and Dave Svatik. Mayor Sue Tejml may only legally vote if Council has a tie vote.
Town Hall is open Monday through Friday from 8:30 a.m. to 4 p.m., except for observed holidays such as July 4th. Town residents may email the Council and P&Z via the Town website, www.coppercanyontx.com. As always, you may email the mayor at [email protected] or call my cell phone 940-368-1085.