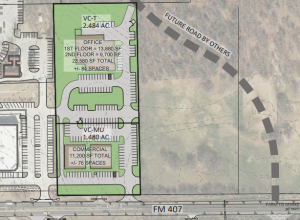 The Argyle Planning & Zoning Commission will consider a small proposed commercial and office building development just east of the intersection of FM 407 and Hwy 377.
The nearly 4-acre tract of land is located behind CVS and Kimzey's Coffee and is part of the Waterbrook mixed-use development across FM 407.
The developer, Terra Manna, is seeking approval of a zoning change from Manufactured Home to Village Center Mixed Use and Village Center Transition districts.
The proposed development would have two small commercial buildings, a total of 11,200 square feet, near FM 407, according to the meeting agenda. Behind that is a proposed two-story office building with more than 23,500 square feet.
The property used to be the Evans Trailer Park, with multiple mobile homes and one single family home. They have been recently removed.
Argyle P&Z will hear the request at its meeting at 6:30 p.m. Tuesday at Argyle Town Hall, 308 Denton St. East.