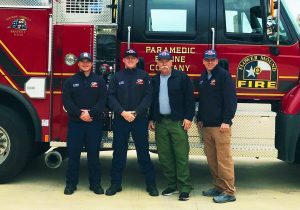 The Flower Mound Fire Department was requested to deploy to California as part of the Texas Intrastate Fire Mutual Aid System.
Flower Mound Fire sent its Type 3 engine, a cross between a brush truck and a structural fire engine, and five firefighters. The team is headed to California to battle the Woosley Fire for 14 days, meaning they will be away from their families during the Thanksgiving holiday.
Three firefighters from the Lewisville Fire Department will also make the trip.
The Woosley Fire has burned more than 90,000 acres and consumed more than 370 structures since November 8 in the Los Angeles and Ventura Counties. It is approximately 20 percent contained and has more than 3,200 personnel battling it.