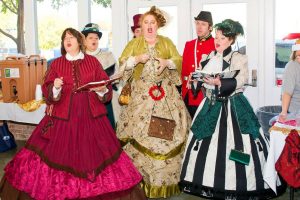 The Denton County Friends of the Family and Denton County Transportation Authority are partnering again this year to bring the second annual Holiday Express to the area.
DCFOF is once again taking over the A-train with DCTA and turning it into a holiday themed train ride, according to a DCFOF news release. While on the train, guests will be treated to a performance by Musical Theater Denton, followed by a family brunch and fun kid-friendly activities at the "North Pole" and "Elf's Playland."
"Last year's inaugural Holiday Express train event was a great success and DCTA is excited to partner with Denton County Friends of the Family again this year to bring holiday cheer and give back to the communities we serve," said Raymond Suarez, CEO of DCTA. "Join us for a day of holiday cheer that will surely make the magic of the season come alive."
The event will be held on Dec. 1, with train times at 8 a.m., 10 a.m. and 12 p.m. Riders will board the train at the downtown Denton train station, ride the train for two-hours before they are returned to the downtown station, then they will go to the nearby Patterson-Appleton Center for the "North Pole" experience for an hour-and-a-half.
Early bird tickets are $35 and seats are limited. Sponsorships are also available. Click here for more information.