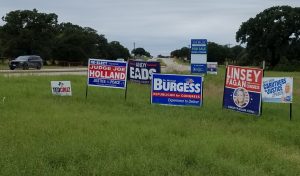 Voters will head to the polls on Tuesday to settle a gaggle of state and county races on the ballot.
Registered voters must vote at their assigned polling sites between 7 a.m. and 7 p.m. Find your polling place and see a sample ballot here.
To highlight a few local races:
Incumbent State Rep. Tan Parker of Flower Mound is being challenged by Democratic newcomer Laura Haines in Texas House District 63.
Democrat Andrew Morris is looking to unseat Republican Lynn Stucky in House District 64.
Republican and longtime Precinct 4 County Commissioner Andy Eads is up against newcomer Democrat Diana Leggett for County Judge.
Amy Manuel is the first Democrat to campaign for Denton County Clerk in over three decades, challenging Republican incumbent, Juli Luke.
Republican Dianne Edmondson and Democrat Bryan Webb are vying for Precinct 4 County Commissioner.
Joe Holland (R) is being challenged by Keri Anne Caruthers (D) in Justice of the Peace Precinct 1, which includes Lantana.
The Justice of the Peace Precinct 3 race that covers Highland Village, Copper Canyon and Lewisville pits James Kerbow (R) against Marianne Poer Vander Stoep (D).
Harris Hughey (R) and Michael Callaway (D) are eyeing the Justice of the Peace Precinct 4 seat in Flower Mound, Double Oak and southwestern Denton County.
See a Denton County Voters Guide here (PDF form).
For more information, visit the Denton County Elections website or call 940-349-3200.