The Flower Mound Town Council approved a rezoning request for the NEM Senior Living multifamily development for residents 55-years-and-older on Monday.
Planning and Zoning recommended approval by a vote of 5 to 1 at its Sept. 24 meeting.
"This is what we've been looking for when we put down the senior overlay," said Council Member Kevin Bryant, referring to the section of town along both sides of FM 2499 with incentives in the form of waivers to encourage developers to build senior housing.
The gated property, planned for 9-acres south of Rippy Road and east of FM 2499, will be capped at 183 units.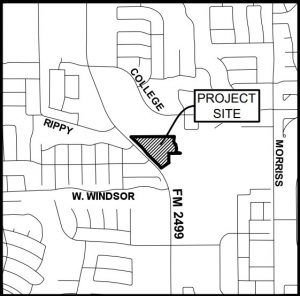 The main four-story 61,380-square-foot building will hold 118 one-bedroom, 61 two-bedroom and four three-bedroom units. Four outbuildings are two-stories each with garages below. A total of 222 parking spaces are planned.
The council had twice tabled the rezoning request, scheduled for both its Oct. 1 and Oct. 15 meetings, for negotiation on development agreement specifics between the town staff and the developer, NE Development, LLC.
Among the discussed concerns were the height of the main building and a list of guaranteed amenities– both of which were resolved.
A proposed trail along FM 2499, a bridge and trail to link the project to both Gaston Park and Timber Trails Park– as well as a trail to The River Walk development– were the only unresolved issues remaining between the town staff and developer.
The vote to approve was 4-1, with Council Member Sandeep Sharma as the sole dissenting vote.