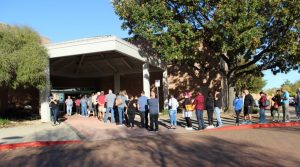 The final totals of early voting are in, and 228,650 have already cast their vote in Denton County. Only 145,032 ballots were cast in the entirety of the 2014 midterms.
The early voting totals in this year's midterm are only about 4,000 fewer than were cast early in the presidential election of 2016.
Early voter turnout in the 2018 midterms surpassed turnout from the 2012 presidential election in the 30 Texas counties where most registered voters in the state — 78 percent — live. In the entire early voting period, 4,514,930 Texans cast in-person ballots and 369,598 cast mail-in ballots. This means 39.9 percent of the 12.3 million registered voters in those 30 counties have voted.
Trying to extrapolate what the final turnout will be based on that number isn't easy. Looking at the biggest race of the 2014 midterms in Texas, the race for John Cornyn's U.S. Senate seat — which the two-term incumbent won in a landslide — it looks like a little more than 52 percent of the ballots in 2014 were cast early. That would translate into a voter turnout of around 430,000 in Denton County for this election.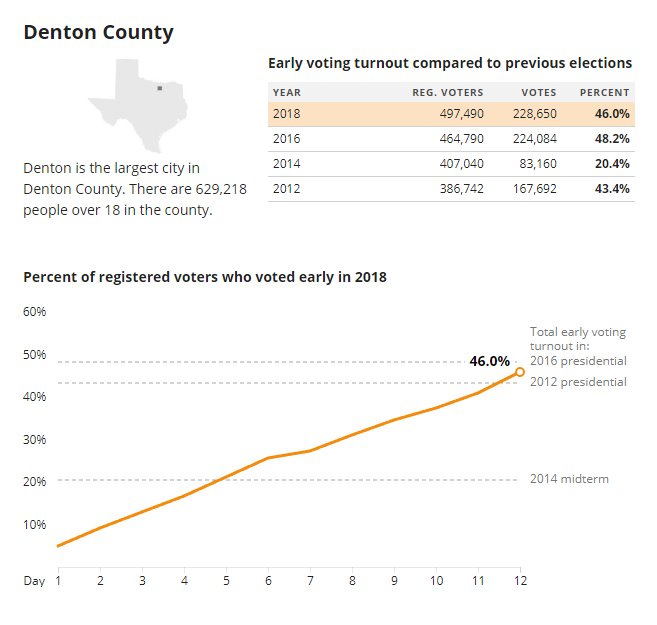 Voter turnout in midterm elections is traditionally lower than presidential elections, and midterms are usually compared to each other, but voter turnout is so large in this case that the 2016 election is relevant context. That election saw 302,835 total ballots cast — though only 298,645 were cast for president. Of those votes, 226,490, or a little more than 75 percent, were cast early. This would translate into a total 2018 turnout of almost 290,000.
The highest single-day total for early voting was the last day, Nov. 2, which saw 24,669 voters take to the polls — this represented a massive spike and more than 11 percent of the county's early voting total.
The Flower Mound Police and Court Facility, Lewisville Municipal Annex and Carrollton Public Library were the three most popular locations out of the 22 early voting sites in Denton County. County residents are free to vote at any polling location during early voting, though they must go to their personal precincts to vote on election day.
Election day is this Tuesday, Nov. 6. Polling locations will be open from 7 a.m. to 7 p.m., but unlike early voting, voters may only vote at their own specific precinct. To find out where you specifically can vote and who will be on your personal ballot, look yourself up on votedenton.com/voter-lookup.
Written by Leopold Knopp, The Lewisville Texan Journal with some data from The Texas Tribune.