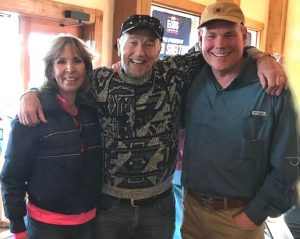 My wife Annette and I enjoyed an exciting day shooting at clay pigeons at Fossil Pointe Sporting Clay in Decatur, Texas. Denton County Commissioner Andy Eads invited us as his guests at the second annual event, which included about 12 teams of 4 shooters at 12 separate stations along the heavily forested acreage in Wise County. Although my background as a New York City cop familiarized me with guns, I never had an occasion to go skeet-shooting. I don't even own a shotgun! Andy took care of that too; he loaned me a long-barreled 12 gauge and provided a case of shells. After seeing the size and weight of the shotgun, Annette decided to be a "puller" or "tracker" instead. She, along with several others, was assigned at stations to release the clay targets each time a shooter yelled "Pull!"
Each shooter would ultimately fire 100 rounds of birdshot, distributed among the 12 stations. A score of hits was kept at each station in order to award prizes later. Since Annette wisely declined, I was part of a 3-man team. Peyton Inge and his son Peyton Jr. were my partners. The senior Peyton is in real estate in Argyle, while his son is an attorney with a Dallas law firm. Inasmuch as I was a novice at this sport, it was reassuring to be on a team with a couple of sharpshooters. Yes, I connected with a few of those high-flying pigeons, but, for the most part, I was a spectator as my eagle-eye partners exploded those birds in mid-flight.
During the 3-hour trek, in a golf cart, through the densely-wooded area I was able to observe many other shooters. It was obvious that there weren't many people attending their first rodeo. Man or woman, these folks know their way around guns. Watching so many folks, who are proficient in their use of firearms, I couldn't help thinking how well-prepared we'd be if our country ever gets invaded. In that regard, I must sneak in one political observation; those who wish harm to a country often attempt to confiscate guns first. A disarmed population is ripe for conquest.  Anyway, at the end of the shooting marathon, I had about 7 or 8 hits out of 100 shots, while my very capable partners had less than that in misses.
To add to the fun-filled activity, there was a fabulous barbecue dinner back at the lodge. Andy and his lovely wife Ginger couldn't have been more accommodating to the group of about 50 hungry, thirsty and slightly worn-out (speaking for myself) participants. Also assisting in the event were a few Flower Mound Chamber of Commerce members. Cindi Howard and Kelly Heslep, among others, were pullers at a couple of stations and then assisted with the awards ceremony at the lodge. Moreover, the ubiquitous Republican advocate, Lynn Yeargain, added her warm smile, sincere hugs and indefatigable energy throughout the day.
The mouth-watering BBQ, with numerous sides, accompanied by an assortment of beers and other adult beverages and sumptuous desserts, was an extra added attraction to wrap up a very memorable day. Mego-kudos to Andy Eads, our Precinct Four Commissioner, for a spectacular day with some of the nicest bunch of well-armed, pleasant and gregarious Texans you'd ever want to meet. Incidentally, I didn't win any prizes, but, I did take home a large black-and-blue tattoo on the front of my right shoulder. It's a small price to pay for the chance to brag about my skeet-shooting adventure.