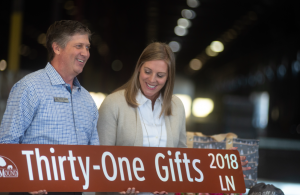 A new business that will be bringing hundreds of new jobs to Flower Mound, making it the second-largest private town employer, was officially welcomed on Friday.
Thirty-One Gifts, a direct-sales company, will relocate its national distribution center to Flower Mound in 2019, with 650 jobs and an estimated additional sales tax revenue of $200,000 annually to the town. The 651,000-square-foot distribution center is located in the Lakeside Business District, 951 South Garden Ridge Blvd., which formerly served as the Kohler distribution center.
A gathering was held in the future home of Thirty-One Gifts on Friday morning, where Founder and CEO Cindy Monroe spoke about the decision to move the company's distribution center to Flower Mound. Several town officials and administrative staff attended and spoke, as did a representative from the office of Gov. Greg Abbott.
"The Town's proximity to the DFW Airport, major roadways and the Dallas/Fort Worth Metroplex continue to be a winning combination, when it comes to attracting quality companies like Thirty-One Gifts," said Flower Mound Mayor Steve Dixon. "We welcome them to the Flower Mound community and support their continued success as they grow and expand their business."
Thirty-One Gifts is headquartered in Columbus, Ohio, where it will remain, although in a new facility.
Monroe said the company's current distribution center is cramped and inefficient, so the business began looking for a better place around the country, eventually identifying Flower Mound as the best community to join.
"The location in Flower Mound puts our distribution center operations closer to areas with significant potential for us, which includes the southwestern U.S. and Mexico," Monroe said. "We're anticipating sizable growth in these markets, so it makes sense to run our distribution center in this region."
The Thirty-One Gifts distribution center is scheduled to begin fulfillment operations starting in April 2019. Prior to opening, Thirty-One Gifts will hire its necessary work force starting in January and invest approximately $17.5 million in improvements to the space and equipment.
Some of the 650 jobs may be filled by current employees who choose to move here, but Monroe said the new facility has plenty of room to expand; and, there may be more positions to fill in the future.
Thirty-One Gifts started in Chattanooga, Tennessee, in 2003. The company– which uses a network of approximately 60,000 independent sales consultants to sell totes, handbags, luggage, backpacks and other accessories– has grown significantly during the past 10 years to become one of the world's premier direct sales companies.