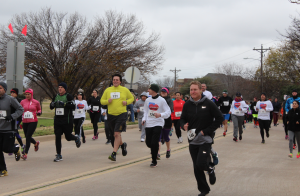 Christian Community Action will host the second annual Tom Duffy Memorial 5K on Saturday morning at Unity Park, 220 Briarhill Blvd. in Highland Village.
The fundraiser will include a 1-mile fun run and a 5K race with all proceeds benefiting CCA and its programs. The 1-mile fun run will begin at 7:45 a.m. and the 5K race will begin at 8 a.m. Registration will open at 7 a.m.
The event is named for CCA Founder Tom Duffy, who died in February 2017. In the early 1970s, Tom and his wife Sara were part of a Bible study group discussion that inspired CCA, according to a news release. Starting with the restoration of a nearby widow's home, the group soon took on a number of similar projects in the neighborhood. Since that time, CCA has transitioned to one of the area's largest nonprofits whose mission was to provide "hand-up" services to those in need.
"Mr. Duffy was an avid runner," said Tina Corbett, director of development at CCA, last year. "We felt it was a good connection to pay tribute to him."
Participants can register online until midnight Friday by going to www.ccahelps.org.
Early Registration fees are:
18 & Over — $35
17 & Under — $25
Day of Registration fees are:
18 & Over — $40
17 & Under — $30