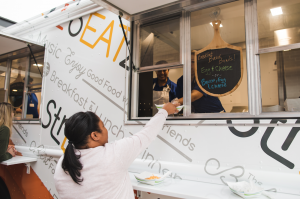 Lewisville ISD is partnering with food service provider Aramark to introduce a new gourmet food truck as a dining option for LISD students.
The food truck hosted a soft opening on Wednesday morning at the LISD administrative center for more than 200 employees. It will make its official debut on Monday at Flower Mound High School from 7:45 to 8:20 a.m. and will follow a regular schedule, visiting all LISD high schools on a weekly basis, according to a LISD news release. It will also support special events for LISD elementary and secondary schools, as well as LISD catering needs and tailgates for sporting events.
The food truck menu will change weekly, serving items such as chicken and waffles with maple sriracha syrup, or sausage, egg and cheese sandwiches on whole grain doughnuts.
The food truck is called StrEATz & BEATz, which refers to the food and the external speakers mounted on the truck that will be playing music.
"StrEATz & BEATz gives us a unique opportunity to introduce innovative breakfast concepts to students through a fun experience," said Aramark Executive Chef Robby Hooker.
The food truck is also planned to provide meals to LISD students during the summer, according to the news release.
"As the LISD food service provider, we take special interest in ensuring students are receiving the meals they need," said Resident District Manager Alisha Jordan McDonald. "With StrEATz & BEATz, we're not only excited for the opportunity to serve kids who don't normally participate in the breakfast program, but also to have an opportunity to serve economically disadvantaged students outside of regular school hours."