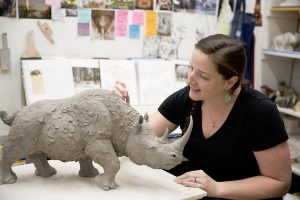 by Tony & Dianne Hicks and Elizabeth Brannon
 Members of the Cross Timbers Artists Guild are showcasing their studios and artwork as part of their 17th Annual Artists Studio Tour!
The tour and reception is free and open to the public, who can get to know local artists, observe their creative processes first-hand and enjoy a sense of community among area artists, neighbors and the local businesses that support the arts.
Since the first tour in 2002, the organization has grown from six artists to 26. The 2018 tour features 21 artists and encourages participation from a wide range of disciplines such as painting, sculpture, ceramics, jewelry, clay, glass, fiber, furniture and even musical instruments.
These artists live and create their unique artwork right here in the Cross Timbers region of North Texas including: Argyle, Copper Canyon, Double Oak, Flower Mound, Highland Village, Lewisville, and others.
Many artists on the tour will also have demonstrations and hands-on activities for public participation.
Providing a platform for art education in a neighborhood setting, each artist looks forward to sharing their art, knowledge and talent with our communities. For further information and a map of the locations of the artists on the tour, see the advertisement in the upcoming November Gazette or visit the website www.crosstimbersarts.com.  Maps will be available at the Opening Reception and at each artist studio location.
Opening Reception: Thursday, November 8, 7 p.m. at the Art House, 6100 Long Prairie Rd., Flower Mound.
Tour: Saturday, November 10, 10 a.m. – 5 p.m.; Sunday, November 11, 12 p.m. – 5 p.m.
Some of the artists featured this year include: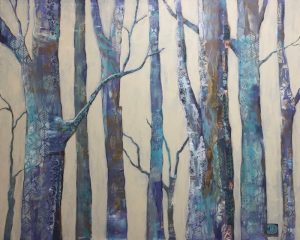 Dianne Hicks – who simply loves pattern. She creates her own papers from her hand-carved printing plates to incorporate in her artwork in order to add Texture, Depth and Interest. From altered books to large collage paintings, she loves the interplay of nature and humanity to draw you into her piece for a closer perspective where the patterns jump out at you!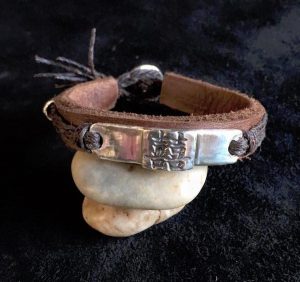 Marie Klotz – who has had a passion for making things her entire life!  The spectrum of materials she uses is broad, including paper, wood, stone, ceramic, gems, glass, leather, copper, sterling silver, bronze – elements of the earth and nature. She especially enjoys working with people in her studio to create unique pieces from their imagination.
Mariel Bowman – who grew up in North Texas and spent a lot of time outside with animals. The undeveloped woodlands that surrounded her childhood home inspired her to create art that focuses on the natural world. As a sculptor, Ariel works in clay using a variety of mixed media techniques.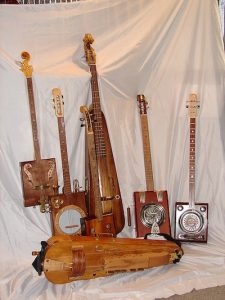 Mark W. Clark – who is a graphic/web designer by day as well as musician, photographer and artist. Mark's "meloddities" combine elements of depression-era tramp or folk art with the love of playing music. These are one-of-a-kind functional, playable art pieces using reclaimed, re-purposed "found" objects so they become impossible to mass produce or replicate. According to Mark, "Though I want my pieces to be visually compelling and unique, each instrument has to sound good and be relatively easy to play. I won't make something that looks cool but doesn't produce good sound or is difficult to play."
The tour is a unique opportunity to experience a variety of arts and the artists, so make plans now to attend the artist tour and celebrate the arts in southern Denton County.
And, to get you in the mood for enjoying art in November, plan to enjoy the annual Flower Mound art event on the first Friday of November:
On Friday, November 2, from 5–7 p.m., the Town of Flower Mound Public Library will host ART PARTY 2018.  Art Party is great for all ages and offers things to do, see and experience.  Come enjoy this annual event that showcases student and professional artists and performers.
New this year will be the ability to create your own art trading cards AND, for the first time, a food truck!  Easy Slider is DFW's first and only gourmet slider truck, serving up fresh, creative mini-burgers!  Mark your calendars NOW and plan to join in the fun!