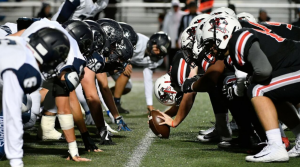 Marcus and Flower Mound high schools are hosting the inaugural Mound Showdown Community Pep Rally with The Mound Foundation on Monday evening.
The two rival schools will play against each other Friday in a varsity football game, known each year as "The Mound Showdown." For the first time, they will come together during the week of the game to celebrate the friendly rivalry at the top of The Flower Mound, 2450 Flower Mound Road.
Community members and FMHS and MHS feeder schools are all invited to the pep rally, which will be held at 6 p.m. Monday.