The odds of having twins is about one in 250 to 350 births; and, approximately one-third are identical twins. On March 22, 2001, the Katie and Carly Haynes set of identical twins added to the population of Argyle.
In the past 18 years, the twins have shared their lives with each other, their family, friends, neighbors, fellow Texans and others outside the state of Texas.
"It all started at the ripe [old] age of five, when I asked Santa Claus for a pink Barbie guitar for Christmas," remembered Carly. "When it arrived the next morning under the tree, I was ecstatic and did not let go of that pink marvel for a long time. I set up little concerts for my parents and siblings and sang the same song programmed onto the guitar; "Hit Me Baby One More Time," by Britney Spears. I sang it all day, all night, and for several months, driving my parents a little crazy."
That Christmas gift had the same impact on Katie.
"I have always loved performing, ever since I could talk," she said. "I remember the first time I knew I wanted to be a performer was when my parents got Carly and me a Barbie guitar and a Brittney mic for my sixth Christmas. I knew that I wanted to entertain people and change their lives for the better. I had a vision and wanted to sing and play instruments for the rest of my life. We both fell in love with our craft at the same time."
At age eight, they started taking voice lessons and were double-cast in the role of Baby June in their first musical, "Gypsy."
"By the time we were nine, I went with my mom to pick up my older sister, Maddy, who was taking acting classes at Cathryn Sullivan's Acting for Film," said Katie. "I immediately fell in love with film and have been taking classes there ever since."
In 2017, both girls began working part-time at Sullivan's school and are represented by the Kim Dawson Agency in Dallas.
They auditioned and were accepted into the prestigious Booker T. Washington School of the Performing Arts in Dallas as freshmen, but the week before school started, the family chose to stay in Argyle ISD and enroll at Argyle High School, where the girls were able to excel academically and professionally during the last four years.
In the Lifetime movie, "A Sister's Secret," that aired in August, Katie and Carly played the younger version of a set of twins who switch places as teens, but– when they do it as adults– murder and mystery is the result.
On Sept. 5, they performed the National Anthem at Globe Life Park (Rangers vs. Angels), which followed a growing list of anthem bookings, dating back to third grade on opening day at Lone Star Park; their first "big" National Anthem performance.
Most recently, both girls performed in the Argyle High School (AHS) version of "The Sound of Music," Sept. 20-23, with Katie playing the lead role of Maria. That was a follow-up to playing the lead of Sandy in "Grease, the Musical," during the spring semester last year.
Katie has been cast in 11 plays and musicals in last 10 years at Denton Community Theatre or for Argyle ISD productions.
Carly also has had success performing at AHS. She played the lead role of Elle Woods in "Legally Blonde" last year and Marty in "Grease, the Musical." Her many roles in musicals at Denton Community Theatre and Musical Theatre of Denton, include "Gypsy," "The King & I," "Shrek, the Musical," "Big River" and "West Side Story."
Both twins also play instruments: Katie plays piano (for 13 years), guitar, percussion, drums, marimba and ukulele; Carly also plays piano, violin, guitar and percussion.
"Being identical twins has its perks and its downside," said Katie. "I will say, when you miss school, it is nice to have your sister to bring home your work and it's cool to have a built-in best friend. Sometimes there's an identity crisis, but Carly and I are completely different– almost opposite– and when people get to know us, it's easy to tell who is who."
The summer of 2018 was another milestone for the Hanes twins.
Carly attended a seven-week Musical Theatre pre-college program at Carnegie Mellon University in Pittsburg, Pennsylvania.  She plans to major in Musical Theatre in college and is applying to Carnegie Mellon, Julliard, NYU, Belmont University and a few other conservatory programs.  She would like to pursue a career in acting and musical theatre, with her dream of staring in a Broadway play.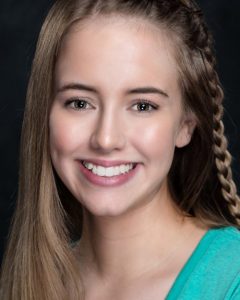 Katie went to New York University (NYU) this past summer for a pre-college summer program in Music Production and technology, where she wrote a lot of music.  The program culminated in a final live and recorded production of one of the songs she wrote. She wants to major in Music Production and Business in college and is still looking at several universities.
Katie said the time apart from each other made her realize, "how blessed I am to have Carly in my life and how much joy she brings me; and, it brought us even closer together when we both returned. I never thought I would miss her as much as I did. It was interesting to see what it was like not to have identical twin by my side all the times. I soon realized that without Carly, neither of us would be the kind of people we are today and we wouldn't be where we are without us pushing each other."
"Whatever I do in my life, I have to be storytelling, whether it be through writing, filmmaking, or even journalism," said Carly. "If the performance career doesn't work out, I'm still going to find a way to tell a story to the world."
"Even though we are very different, we still have the same passions, which is something I am so blessed to share," said Katie. "I love that we are both very different, because we can add many different styles to our music, which I is think is very important when reaching out to a varying audience."
In addition to their passion for performing, both girls are members of the Children of the Republic of Texas (CRT) and have held state board positions; and, both remain very active in CRT state-wide.
They also are involved in multiple school activities.  Katie's include: National Honor Society, National Thespian Honor Society, Challenge Day Club, UNICEF Club and UIL Academics; Carly's include: Senior Class President, National Honor Society, National Thespian Honor Society (Chairman 2018-19), President of UNICEF Club, Broadcast Director/Anchor for The Talon News, Treasurer and Pep Squad Leader for Student Council (2018-19) and UIL academics.
"The best thing about being a twin is that I get to always have a friend by my side," said Carly. "What's even better, is that we share the same passions and we get to work together as a duo."
"We are riding on the journey together like we always have," said Katie.