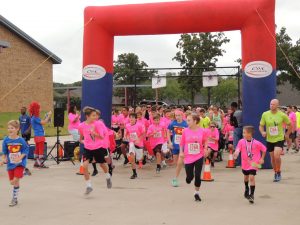 The community in and around Argyle are getting ready to "sock it to" muscular disease and race around town in the Argyle Run for our Sons.
When Corbin Fanning, of Argyle, was 4 years old, he was diagnosed with Duchenne muscular dystrophy, a genetic disorder that causes progressive muscle degeneration and weakness. It primarily affects boys and symptoms usually arise between the ages of 3-5, according to the Muscular Dystrophy Association.
The outlook for boys with the disease isn't good, said Corbin's mother, Amy Fanning.
"Most boys are in a wheelchair by the age of 13," Amy said before last year's race. "Most of them don't live past their early 30s, and that's after some recent medical advancements."
The sixth annual Argyle Run for our Sons charity event benefits Parent Project Muscular Dystrophy, a nonprofit dedicated to families with sons affected by Duchenne Muscular Dystrophy.
The event will kick off at 8 a.m. on Saturay with a 1-mile fun run, followed by the 5K at 8:30 a.m. The race starts at Hilltop Elementary School, 1050 Harrison Lane, and winds through the older streets of Argyle.
Runners are encouraged to wear their craziest Argyle socks "to sock it to" Duchenne.
Click here for more information about the race. Race day registration is available until supplies run out.