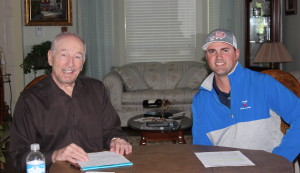 On Saturday, October 13, from 11 a.m. to 7 p.m., the Dallas Chapter of the PTSD Foundation of America will host its second annual fundraiser to support military veterans with Post Traumatic Stress Disorder (PTSD).
The event, which will feature barbecue provided by a team of military veterans, construction crews and others who will be competing for top honors, will be held in Flower Mound's Parker Square. There will be live music, a kid's zone, a raffle and a silent auction, the proceeds of which will go to the PTSD Foundation.
Derek Barr, Director of the Dallas Chapter, came over for an interview to talk about the work of the foundation and the barbecue on Saturday.
"Our Dallas Chapter is now completing our second year of operations," Mr. Barr said. "We conduct Warrior Groups, which are peer to peer networking/counseling. We service 60-70 vets a week at these groups, while directly and indirectly service 235 vets a week out of our office."
As for Mr. Barr; he joined the Army Infantry in 2006. Got out in January 2017 and joined the National Guard, where he currently serves as a Platoon Sergeant in Bravo Company 2-142nd Infantry. He has been on four tours, one to Iraq and three to Afghanistan. He talked about the Parker Square event:
"All area residents are invited to come and enjoy the outstanding barbecue at no cost," said Mr. Barr, adding, "We want to reach out to the community to let them know about our efforts to combat PTSD. You can eat for free and perhaps donate to a very special cause." Although the event was held in Dallas last year, Mr. Barr said his organization selected Flower Mound this year because of its reputation as a clean and safe community with a reputation for supporting military veterans and those affected by PTSD.
The following is from the foundation's website: www.northtexasgivingday.org/ptsdusa
"The PTSD Foundation of America-Dallas Chapter is dedicated to mentoring combat veterans suffering with post-traumatic stress. Their mission is to bring healing to our military community and their families through counseling, and peer mentoring. They also work continually to raise awareness of the needs of the military community and to network with government agencies, churches and the private sector. The goal is to build a united "Corps of Compassion" to meet the needs of the military community on an individual and family level and to provide hope and healing to those who served our country. On September 20th; North Texas Giving Day, please help those who have given of themselves so selflessly."