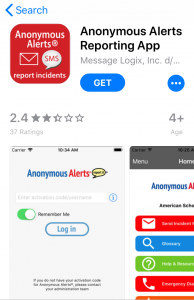 The Argyle ISD recently introduced students, parents and employees to an anti-bullying and safety app reporting system.
With the Anonymous Alerts app, users can engage in 1-way or 2-way anonymous encrypted communication with district administration and/or school staff.  The new system will help combat bullying and other negative activity in schools by empowering students to speak up, according to an AISD news release.
In addition to downloading the Anonymous Alerts mobile app, students, parents and employees will be able to access an "Anonymous Alerts" button or link on their campus webpage, and from there they can submit a report expressing concern, according to the news release. The district will give students an activation code.
Anonymous Alerts is not meant to be used in case of emergency. If there is an emergency, everyone is urged to always call 9-1-1.