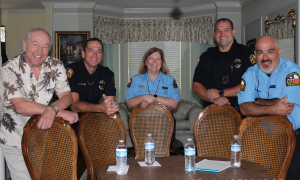 The Flower Mound Police Department and the Flower Mound Citizens Police Academy (FMCPA) have joined together once again to bring the Santa Cops program to Flower Mound. To benefit the program, a Casino Night is put on by the Flower Mound Citizens Police Academy Alumni Association (FMCPAAA). The event will be on Saturday, October 13 from 6 – 10:30pm at Bridlewood Golf Club – 4000 W Windsor in FM. There will be food, blackjack, craps, slots, and Texas Hold 'Em, as well as a silent auction, raffle and door prizes. Town merchants have been very generous with the donations.
You could take home a 55" TV, bike, American Airlines frequent flyer miles, a tool box or gift certificates to local restaurants and businesses. Tickets are $40 each, which can be paid in cash, by check, or with credit cards. Email requests can be sent to [email protected] Monetary donations and gifts of toys are collected, then, distributed at Christmas time to children in Flower Mound who might not receive a gift at Christmas.
Members of the FMPD and FMCPA came over for an interview to describe what they do and how the Santa Cops program works. Our guests were Police Officers Chris Coots and Justin Buck and Citizen Patrol members Joni Williams and Brian Smiley. Their webpage is: www.flower-mound.com/555/Citizens-Police-Academies The following was submitted by the FMPD:
"Santa Cops is designed to be a positive interaction between the Flower Mound Police Department, the community and those children who might perceive law enforcement in a negative light. The program has been successful in Texas and throughout the United States, fostering the idea that law enforcement does serve, as well as protect. The Flower Mound Police Department wants to thank you for taking the time to read this information about the Santa Cops program and hope that you find it in your heart to help the children enjoy this and many more Christmases to come.
"If you know of a child who needs help from Santa Cops, please contact any Flower Mound police officer or the Flower Mound Crime Prevention unit so that we may consider that child for assistance. Monetary donations are accepted at the Flower Mound Police Department lobby (4150 Kirkpatrick Lane). Toy donations for children under 12 years of age are accepted at any donation bin distributed throughout the Town of Flower Mound."