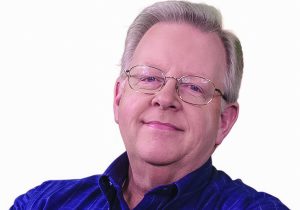 In the record books, September in Denton County looks fairly normal, but heavy rains and a pre-autumn cold front spiced things up. Our highest temperature was 95 on September 1st. Our coolest was 55 on the morning of the 27th. The resulting day/night average temperature for the month was 77, half a degree warmer than normal.
Rainfall was generous, almost to a fault. An upper level disturbance from the west was held up by a blocking high over the eastern U.S., which resulted in 2.18″ of rain several days from Labor Day, September 3rd through the 12th. An additional .29″ fell over the 14th and 15th. The third week of September marked a return to 90s and no rain until Gulf moisture from a tropical system fed into an approaching cold front, dropping 3.27″ from the 21st through the 23rd, which was our coolest high for the month at just 71 degrees. The first true Continental Polar air mass of the season invaded North Texas on the 26th with another tenth of an inch.
Rainfall at Denton Enterprise Airport was 5.85 inches, over three inches above normal, which erased our rainfall deficit for the year. Current year-to-date rainfall in Denton County is roughly 28.3 inches.
The rains of late September were even heavier in other areas. DFW Airport recorded 12.38″ for the month, shattering the old record of 10.8″ in September, 1932.
Over 7" of rain fell in a very short period on Sept. 21 in the Argyle area, causing a portion of Old Alton Road to washout. Flash flooding that day forced 40 families to evacuate their homes in Everman, in southern Tarrant County. A total of 64 homes suffered flood damage. Dozens of high-water rescues were made, but not enough. Near Lake Arlington, flooding killed a mother and child, whose car was swept into a culvert at East Loop 820 Service Road and Wilbarger. Witnesses tried but failed to break out the windows on the car. A third victim, an older man, who tried to drive through high water in Arlington was swept away over a small dam and not found until hours later. Those deaths are not only tragic but senseless if we fail to learn four critical lessons:
If you're in a safe place during a storm, don't drive anywhere until the storm is over.
If you're driving and the rain becomes so heavy you can't see, pull into a parking lot or driveway (anyplace safe) and wait out the storm.
If you can't be certain of how deep the water is ahead of you, back up or turn around. Don't drown.
Most (nearly all) flash flood deaths occur in automobiles and are preventable.
Please post those four rules on your refrigerator, in your own car, and in any car that anyone in your family drives.
For what it's worth, the Climate Prediction Center indicates near normal temperatures and above-normal rainfall for October and fall in general.
Brad Barton is Chief Meteorologist for WBAP820/570KLIF/99.5'The Wolf' and Home Field Meteorologist for the Texas Rangers Baseball Club.