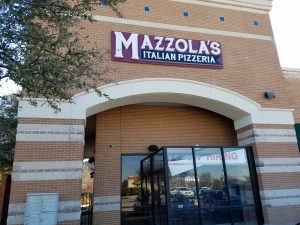 Mazzola's Pizzeria in Flower Mound closed its doors on Sunday after serving up pizzas, coffee and baked goods since March of this year.
Owner Erik Stenson of Highland Village had created the restaurant by modeling it after his Uncle Joe's well-known Boston pizza shop and bakery called Mazzola Brothers Bakery.
Stenson announced the closing in a Facebook post, citing slow business.
The pizzeria was located at 1913 Justin Road, behind Discount Tire in the former Dolce Cafe Bakery space.