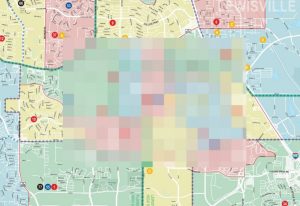 The Lewisville ISD Board of Trustees met for a workshop session last night Sept. 24 to discuss possible rezoning schemes to make up for the closure of Hedrick Elementary School in Lewisville, which is in its final year. The changes could take effect as soon as next year.
Hedrick Elementary's closure was part of the 2017 bond package — the elementary school shares a plot of land with Hedrick Middle School, and the package that was ultimately voted on included expanding the middle school at the elementary's expense. The package also added 10 classrooms to Vickery Elementary School a block west in Flower Mound.
The board was presented with several maps that laid out possible options for how students who are currently sent to Hedrick Elementary could be zoned, as well as on other rezoning concerns such as the incoming elementary school on Mill Street, the future of Bridlewood and Flower Mound elementary schools and the future of zoning in the fast-growing southwestern part of the school district.
Superintendent Kevin Rogers said district staff had discussed as many as 15 different zoning options, but the board was presented with three. He asked the board to narrow that down further to two to present to the public.
Read more from The Lewisville Texan Journal.