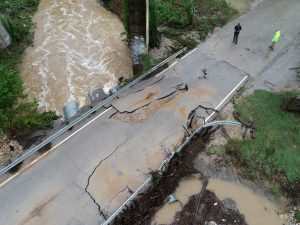 A portion of Old Alton Road between Hilltop Road and Copper Canyon Road was washed out after over 7 inches of rain fell between Friday night and Saturday morning.
Old Alton is closed between Hilltop and Copper Canyon Road.
Denton County Road crews will inspect the road to determine the timetable for repairs.
"We do not have a timeframe yet. Our engineering team will be on site during an analysis of the culvert under the road Monday to determine if there are structural issues beneath the road that need to be repaired prior to the surface being replaced," said Denton County Pct. 4 Commissioner Andy Eads.
Old Alton Road is open from Copper Canyon to Teasley (FM 2181) but will remain shut down from Old Alton/Copper Canyon to Hilltop.
See current a list of Denton County road closure here.