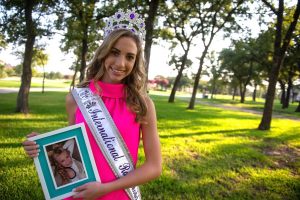 Janae Cook and Emma "Tita" Shaffer had been best friends since first grade at Liberty Christian School.
"April 9, 2016, was a day that changed my life forever," said Cook, 14, of Argyle.
That was the night that Janae's [then] 12-year-old best friend, Tita Shaffer, and her 41-year-old mom, Emma Azuela de Shaffer, were driving north on Hwy 377 heading home from dinner, when their Volvo was hit head-on.
Denton Police reported that a Nissan Rogue– driven by Ashli Morgan, 25, of Roanoke, with her daughter, Lorelei Cotter, 4, was traveling southbound on Hwy 377 around 8:20 p.m., when it crossed into the northbound lane, crashing head-on into Shaffer's car.
Both of the mothers and their daughters died in the accident.
Police on the scene determined that Morgan was texting a friend while she was driving, which caused her to veer over into the oncoming lane hitting the Shaffer car head on. The text that cost two moms and two daughters their lives was, "I'll see you at the skate park."
"The day before the accident, Tita was able to come home with me from school and play," said Janae.  "I am so thankful that right before she got in the car to go home, I gave her a big hug and said, 'I love you, Tita' and she said it back.  That was the last time I talked to my best friend and her mom."
Not only did both girls attend Liberty Christian School– where Janae is now on the competition Varsity cheerleading team– they spent their after-school time together at Champion Cheer in Southlake, where Janae has continued as a competitive cheerleader.
So many hours the girls had spent together made Janae's loss of her friend even more difficult.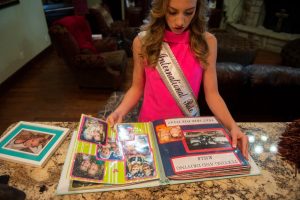 A close family friend, Rhonda Bannister, recommended that Janae compete in the Royal International Miss (RIM) pageant to help Janae process the loss of her best friend. This pageant-system is different from most, because it promotes platforms and community service. RIM focuses more on the beauty on the inside.
Sharon Norquist, the director of RIM, looks for individuals who donate their time to their community, as well as those who are making a difference in people's lives. Janae competed as Miss Heartland.
"I want to bring awareness to the dangers of texting while behind the wheel of a motor vehicle," said Janae.
Janae's title is Royal International Miss International Role Model Jr. Teen. The seven-day pageant was held in Orlando, Florida, July 8-15.
This is an international pageant, so now Janae has "sister queens" all over the world, including Australia, Europe and South Africa. Each sister queen has her own platform they promote; but, at the same time, they promote their sister queens' platforms as well,
"This is why I created my organization, 'Text Free For Tita,'" said Janae. "I try to pass the encouraging message of "It Can Wait" on to as many people as I can. My campaign has now gone global!"
Janae passed out pledge petitions to never text while driving as well as "Text Free For Tita" key chains to all of her sister queens to take back to their country to spread the word about the dangers of texting while driving.
"My goal is to raise enough money to make more "Text Free For Tita" key chains and Pop Sockets that have the logo on them, as well so that everyone has the reminder that: no text is worth a life, it can wait," said Janae.
In September 2017, the state of Texas passed a law making it illegal to text and drive.
"We must take this law one step further to a hands-free law in every city and state," said Janae. "Argyle has this law in effect. Speaking to local police officers in the surrounding cities, the officers say that it is hard to prove if a driver is texting and driving.  The drivers can just say they are using their maps for directions."
She has been able to spread the word that "no text is worth a life, it can wait" and take this tragedy of losing her friend to save as many lives as she can, so people won't go through the pain of losing a loved one like she has.
"The life I save could be yours!"