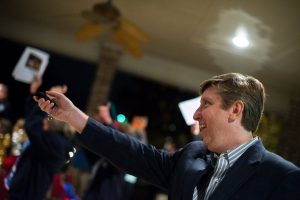 Attorney General Ken Paxton, Agriculture Commissioner Sid Miller and Railroad Commissioner Ryan Sitton will be in Denton County on Sunday for the Denton County Republican Party's 2018 Victory Kickoff Rally.
The Rally for America event is open to the public and will run from 1 p.m. to 3 p.m. at Doubletree Ranch Park in Highland Village, 310 Highland Village Road.
U.S. Congressman Michael Burgess, State Representative Tan Parker, State Representative Lynn Stucky, State Representative Ron Simmons and State Representative and Republican Nominee for State Senate District 30, Patrick Fallon, as well as many Republican candidates and elected officials will also be attending the event.
State Senator Jane Nelson will act as mistress of ceremonies for the rally, which will feature activities for children, food, and opportunities for attendees to visit one on one with statewide and local candidates and elected officials.
"Whether you have been a Republican for many years, are new to our Party or want to know what we stand for and believe in, we invite you to join us," said Denton County Republican Party Chairman Jayne Howell.  "We have a great slate of local and statewide candidates to get out the vote for this November."
For more information call 940-383-4446 or visit www.dentongop.org.