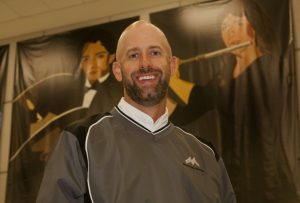 Even in the far-reaches of the DFW Metroplex, the reputation of the Marcus High School band and its former director, Amanda Drinkwater, has long-made it one of the state's most coveted programs.
Its accolades include: five state titles since 2006; three top finishes in the Bands of America Grand Nationals; countless students who have gone on to succeed in music, as well as many other walks of life. Then, there's the passionate and extensive booster club and the rest of Marauder Nation.
That overall success is what new Director of Bands Jeffrey Jones is fully-ready to continue.
Jones started his position on June 1, after Drinkwater moved into the administrative side of the Lewisville Independent School District.
The 40-year-old Mansfield native comes to town after 12 years in the same position he held at UIL Class 6A North Mesquite High School. Previously, he was assistant director at Class 5A Mesquite Poteet High School after earning a Master's degree from the University of North Texas and a Bachelor degree at Texas Tech University.
But, Jones is no stranger to this area, since wife Bethany started her teaching career as band director at Briarhill Middle School in Highland Village nearly 20 years ago. A year later, she went to Arbor Creek Middle School in Carrollton for a year, then spent three years at Hedrick Middle School in Lewisville.
"So, in a way, it feels like coming home," Jones said. "LISD has a reputation– not only in the band community, but in the education community– as a leader of our field. It is fiscally responsible, but loves our kids and does whatever it takes for kids to be as successful as possible. That's the kind of place you want to be."
After living in North Dallas, Garland and Mesquite, the family now resides in Highland Village where ironically oldest daughter Caitlyn is a sixth grader at Briarhill. Daughter Esther is a fifth grader and son Seth is a third grader at Heritage Elementary School. Bethany is back in LISD helping the central feeder schools as a supplemental instructor.
Though Jones didn't know Drinkwater well, their paths crossed several times over the years.
"I don't think there are many people who don't know what this program has meant to this community for a decade and a half plus," he said. "We've certainly had professional knowledge of each other."
When he first heard about Drinkwater's move, he jumped at the chance to apply.
"The music community, like many others, is pretty tight-knit and pretty close, so you hear about that kind of information through the board meetings," he said. "It didn't take long for the 'word on the street' to be out there that the opportunity was becoming available."
After a comprehensive interview process, Jones got the job and went right to work on this year's program– entitled "Renaissance." It is based on music from that time period recomposed and/or arranged by more contemporary composers. Old made new again, Jones calls the program. It was actually designed before he was hired. He said it will eventually feature the usual amount of visuals.
"If people come out [in] the middle of October, I think they will be amazed at what these guys can create on the football field," he said.
Helping Jones oversee the program are longtime Associate Director Kennan Wylie, Color Guard Director John Leonard, former Marcus student teacher Matt Ball and Nick VandenBush, previously assistant director at Hedrick.
"It's a great dynamic team," Jones said.
They are employing the same philosophy Drinkwater and her staff previously preached to band members– it's the performance that counts, not where you finish.
"It's not about a trophy or a place, but about living up to the potential that was in the ensemble, when they were in the ensemble," Jones said. "It's exciting– and incredibly daunting, at the same time– to be in a place where that is really poignant.
"Art is inherently subjective, so the struggle there is that your whole goal is to win. Even when you do win, I think you miss the mark. So, one of the things that has made [Marcus] such an impressive place and a fixture, is the fact that the whole concept has been 'achieving at the highest level of your potential.' And, the thing that weighs most on my mind, is helping these kids almost live-up to the legacy that's come before them."
Jones said that the high school band experience is much more than music and marching.
"I think our goal is help kids grow. And the exciting part of the curriculum here is we get to use music to teach students honesty, integrity, hard work, dedication, teamwork, social skills and problem solving."
When not at Marcus, Jones spends time helping students statewide become better peer-to-peer leaders with his Jones Leadership Consulting business and driving music leaders in his wife's minivan (www.maestrosinminivans.com). At Marcus, he combines that background with two decades of teaching to bring out the best in his students.
"Our opportunities allow us to take math, science and social studies and make it into the way you are going to have to be to work in a 21st century workforce," he said. "It's exciting for me to work in a place that values that part of the process. They provide us an excellent vehicle here to do something that can be very well-received in the community.
"Even though the majority of our students don't go on to become professional musicians, I think what we do is critically important, because it does teach them that if you grow up and are going to become a surgeon, it's 'game day.' Or, if you're going to be an engineer, every day you are building bridges is 'game day.' It's not that we get ready just for the performance, but also the ability to teach the students a level of high-achievement and high-performance on a day in, day out basis."
Jones has been impressed with what he's seen so far during the summer and first weeks of school; and, is looking forward to the journey of the marching season.
"It's really obvious that the kids that have come before them in this space have had the opportunity to do some incredible things with their peers," he said. "So, our goal is to challenge these kids to live up to the potential that they have in the moment.
"If they can look at themselves in the mirror– and each other in the face– and feel like they've lived-up to what they were capable of creating in that moment, then we can all go home pleased with the work they've done."