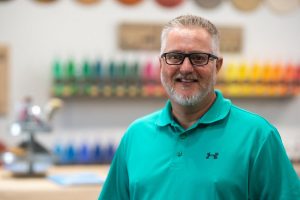 Since his middle school years near Austin, Lewisville's 48-year-old Henry Wall has engaged in a life of entrepreneurship.  Indeed, the argument could be made that from then until now he has turned the activity into an art form.
"I'm an idea man," he said.  Even in the middle of a good night's sleep.  "I keep a notebook on my bedside table so I can scribble interesting thoughts that wake me up."
The creative, high energy businessman knows a lot about a lot of things.  Take camping, for instance.
"I grew up living in a tent in the Round Rock area near Austin."  That kind of home, he said, was "the difference between being poor and po'.  "My dad endured extended unemployment during my childhood.  At an early age, I learned to be independent and how to do a lot of unusual things; like hunt if I got hungry."
Despite the family's circumstances, the Wall children regularly attended public school.
"My first business was as a middle school ghost writer," he confessed.  "I sold high-quality book reports and essays to my better-off classmates."  The market was ripe pickings.
When he was merely 14, an eighth-grader, Wall's father at last landed work–in Pennsylvania.
"I liked Round Rock and decided not to move," he said.
A buddy's dad who owned a funeral home offered to shelter Henry in a staff overnight facility.
"He also gave me a job," said Wall.  "I worked there after school and in the evenings and learned the mortuary business.  I used the kitchen for my second business venture, which was baking cupcakes, cookies and brownies, which I sold at school."
Between writing, baking and assisting with the dead, he earned and saved enough to move into his own apartment.
"I continued to work at the funeral home and produce home-baked treats," he said. "Believe it or not, I graduated from high school on time and with good grades."
Becoming a mortician seemed the next logical thing to do in life, "so, I headed for school in the DFW area and supported myself as a deliveryman for an office concessions company."
He met and married his wife, then graduated.
"What I liked best was working for myself and I liked an ever-changing employment pace."
Evenings and weekends he and a friend made smoked turkey jerky in the garage, then sold their product to employees of the companies where they delivered break room concessions.
"Eventually our wives got tired of smoke permeating everything and forced us to move the business into its own facility," Wall said.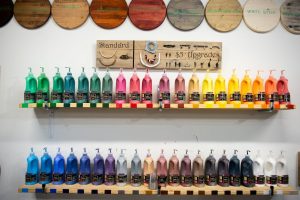 In time, Wall sold most, but not all, of his interest in the jerky operation, and started his own coffee concessions company.  He repeated the startup-to-sale process, keeping a share of ownership of the second business.  "I figured out I could produce an income stream that would grow over time with each successful business venture."
Henry looks at things with an analytical mind.  He realized his strongest skill was as an idea man.  Corporations don't manufacture ideas; they purchase them–from idea men.
"Being someone else's employee or facing the same career as far as the eye could see just wasn't for me," he said.
From smoked turkey chews, Wall jumped to succulent beef and pork, by opening Fat Cow BBQ– a successful Lewisville restaurant and catering service, in which he still has a major interest.
"I have a managing partner over there," he said.
A couple of years ago, he heard about escape rooms– a group entertainment and team-building rage in Canada and Europe.  No, this isn't exercising one's inner Harry Houdini, but more like a three-dimensional, you-are-there, Clue game. The simplest escape room mystery games involve one furnished room in the business's venue.
Clues about the mystery and its perpetrators are stashed from the door to the farthest wall.  The players begin by reading all the info and checking out the mug shots posted inside the door.  They have 30-minutes to find and analyze the data, connect all the loose ends and solve the problem or mystery.  Games involving more than one room are progressively more complicated and take longer to solve.
If you've dreamed of heroically beating bad guys by finding and disabling their planet-imploding computer, Wall has the electronic challenge of a lifetime.  This whole game idea nudged Wall's "Jumanji" instincts.
He enlisted a friend and they began work on developing several games.  The pair used their woodshop tools to produce the life-sized props for each game.
On the side, they used computer-aided design (CAD) programs and power tools to make custom furniture for sale.  One idea just leads to another.
After Wall's own Escape Room business on Main Street in Lewisville was up and running (it's booked solid every weekend), he mused about creating a public do-it-yourself woodworking shop.  Wood Worx DIY Creative Workshop popped into being like Athena jumping out of Zeus' head.
"Wood Worx is two-months old and in the plan's first operational phase," he said. "We cater to groups who want to design and produce a single wood project that does not require heavy construction tools."
So, let's say a ladies' group wants to make inspirational plaques.  One of them calls Wall, then takes the idea to an in-person meeting at the shop at FM 1171 and Garden Ridge (1565 W. Main Street, Ste. 415 in Lewisville).  The storefront carpentry facility is located several suites north of the Escape Room business.  Wall and the prospective customer discuss ideas, while he taps away at the computer devising construction plans.
When the customer is happy, they book a "party" at the shop.  Meanwhile Henry mass produces the parts and gets all the supplies.  On party day or night, the budding carpenters shows up to assemble, personalize and finish each item.
"The average workshop party is three-hours long and includes personal instruction and professional help the whole time.  The average cost per participant runs about $65 total."
So, go ahead, get out of your craft-rut and make something new and terrific!  (The website is: WoodWorxDIY.com)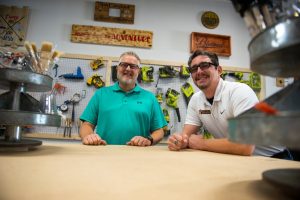 Henry envisions the second phase of Wood Worx– producing more complicated projects using bigger tools– that will require learning new skills with plenty of tutorial supervision along the way.
"Phase 3 will be a personal key-card with 24/7 access to the shop and all the woodworking tools your heart can dream about using all by yourself," he said.
Does a man this busy have time for his wife and four kids and personal interests?  The answer is an emphatic, yes.
"I'm big on family," Wall said.  "We actually camp in our RV about two weekends a month!"
He likes golf and puppies, but not necessarily occupying the same space and time slot.  Oh, and he buys real estate as a hobby.
"My feeling about life is to go for your dreams," he said. "Be who you want to be.  Have fun.  Work hard, and don't skip family time."