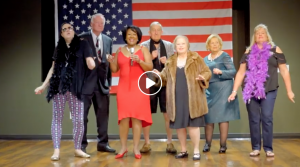 The Flower Mound Senior Center took a page from the police department's book and released a Lip Sync Challenge video this week.
To celebrate National Senior Center Month in September, the local Senior Center created a #lipsyncchallenge video and is challenging other senior centers across Texas to participate, specifically the Grapevine and McKinney senior centers. The Flower Mound video shows local seniors dancing and lip syncing to the late Aretha Franklin's song "Respect."
The lip sync challenge was the social media trend of the summer that had police officers showing their fun side in entertaining videos of them lip syncing along with pop songs. The Flower Mound Police Department's lip sync video went viral and is in the running to be named the best one nationwide in a USA TODAY bracket.