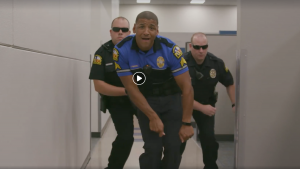 The Flower Mound Police Department's lip sync video has advanced to the final four in the USA TODAY bracket.
Late last month, the USA TODAY newspaper created a bracket of 16 of the best law enforcement agencies' lip sync challenge videos around the country, and FMPD's fun and funny lip sync of Meghan Trainor's "Me Too" was one of them.
The lip sync challenge was the social media trend of the summer that had "police officers and firefighters showing their silly side in sometimes highly-produced, often hilarious and always-entertaining lip sync challenge videos," according to the nationwide newspaper.
FMPD's video has received more than 7.6 million views on its Facebook video alone, plus more than 550,000 on Youtube. Most of those views were in the first week, back in July.
The high quality video was shot and produced by the town's communication department in a surprisingly short amount of time.
"After much discussion, we finalized our song choice on Tuesday, shot the video on Wednesday, and produced it on Thursday," said Molly Fox, the town's director of communications. "It was a little stressful, because we had one shot to make it work before several people in the video went on vacation the following day."
Sgt. Jason Rachal, the star of the video, was one of those going on vacation. That weekend, he was recognized by a family from Tennessee who wanted a photo with him.
The town and police department wanted to create a video "that residents could take pride in," Fox said.
"To have such a high quality of video in such a short amount of time is almost impossible, and illustrates how much everyone wanted this to be a success, both in performance and production," Fox said. "When I saw the final cut, I knew we had a top notch video so it was exciting to see it immediately take off in views, comments and shares."
FMPD got more votes than its opponents in the first two rounds of the USA TODAY bracket, and now, it advances to the final four and is up against the Dakota County, Minnesota Sheriff's Office. Voting in the final four round lasts until 11 a.m. CT on Saturday.
Just a couple hours after voting in the final four round opened Tuesday, Dakota County had a sizable lead over FMPD, with 1,082 votes to FMPD's 303.
Click here to watch all the videos and vote.
https://www.facebook.com/FlowerMoundPoliceDepartment/videos/807389332717979/