The Texas Department of Public Safety (DPS) opened  its new Drivers License Office in southern Denton County on Tuesday
Many local and state officials celebrated the opening with a ribbon-cutting Tuesday afternoon at the new office, located in the Southwest Courthouse, 6200 Canyon Falls Drive.
Precinct 4 Commissioner Andy Eads emceed the event and speakers included local State Senator Jane Nelson, local State Rep. Tan Parker, Denton County Judge Mary Horn and DPS Director Steven McCraw.
"As chair of the Senate Finance Committee, I have worked to provide significant funding over the last two sessions to reduce wait times and make it easier for Texans to renew their licenses online," Senator Nelson said.  "We have made progress, but have more work to do."
The courthouse opened last year near Hwy 377 and FM 1171, but the DPS Drivers License office, which has been in the works for years, was not ready to open then, reported Shannon Joski, chief administrator for Eads' office.
The courthouse was built with designated space specifically for it. The Drivers License office is a smaller office, certainly not a mega-center, but it will be full-service and it serves two main purposes.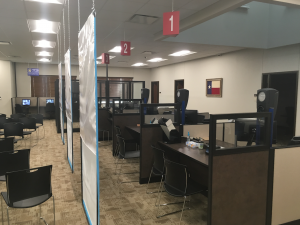 "It was always meant to help alleviate the congestion of other offices around the area," Joski said, "and it is also part of an effort to bring services out from the county seat into the community. It will allow people to do more county or government business in one place instead of driving around from office to office."
The office, which has 24 seats in the waiting area and four stations, will be open from 8 a.m. to 4:30 p.m. weekdays and will only offer services that cannot be completed online, including: original driver license; original ID cards; and, renewal and replacements for customers who must appear in person. Skills tests are not currently available. Residents should call 1-866-DL-RENEW or click here to see which transactions cannot be completed online.
Before this office opened, the closest Drivers License offices to southern Denton County have been the ones in east Denton and in Lewisville. Click here for information about how to minimize your wait at any state Drivers License office.